Gaming Fun for Everyone
Game Lounge is a fun, interactive video game experience that comes to you. Our events let players compete, collaborate, and connect across a wide range of games in a comfortable and fun way. Our event planners will design an experience that will engage your guests no matter the size of your group. We bring all the equipment and staff to you, all we need from you is a space to setup and the players ready to game.
We've designed Game Lounge to be both portable and flexible. We bring it all, covering everything from the equipment to staffing. Including a library of games that are great for cooperative or competitive multiplayer, TVs or projectors, lights and sound. Each event includes staff and a professional host to handle setup and ensure all your guests have a great time through facilitating special game modes or challenges depending on your specific event needs.
What do we play?
As we plan your event with you, there are some options which you can use to customize the experience. You can opt for a free-play experience, letting your guests sample different games throughout the event. You can arrange an esports tournament. You can create a video game "obstacle course". Or you can turn it all over to your game host and let them guide the fun! With Game Lounge, the fun is in the experience and every event we run focuses on fun gaming together.
From corporate events to bar/bat mitzvahs, Game Lounge has something for everyone. Our events are great for groups of all ages and can fit a variety of different venues. We've run events at corporate offices and city parks, from hotels to houses, and everywhere in between. If you want to entertain a group with a fun, engaging, and high-tech activity, give us a call. One of our professional event planners can build an event package that works for you.
Request a Quote
Contact us for availability, scheduling, and other questions. Our events team will help you plan your event.
Request a Quote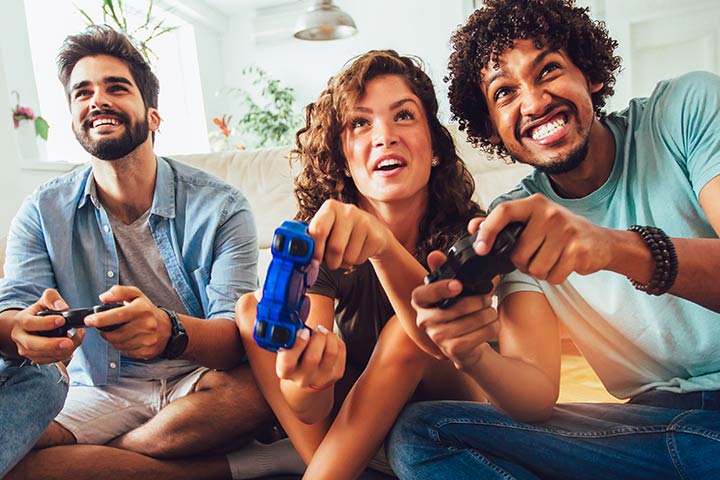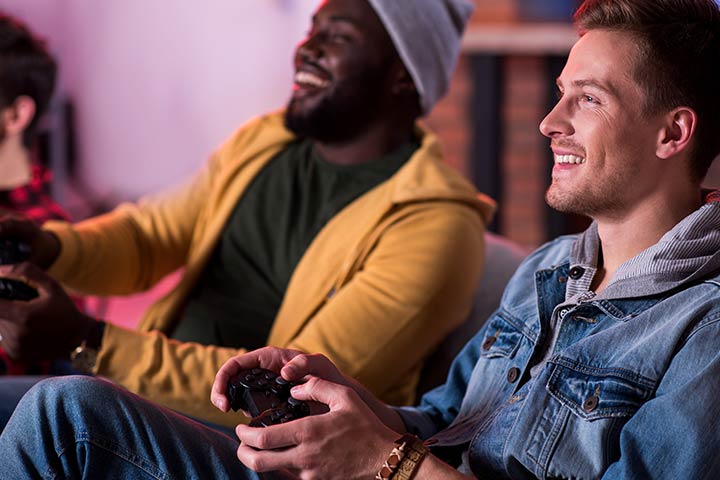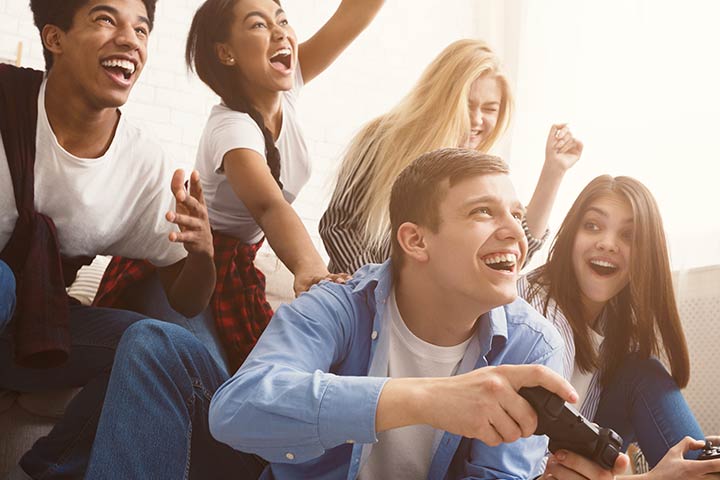 Common Questions
How does this work?
We keep things simple by coming to your location. We bring all the equipment: game consoles, TVs, sound and lights to your location, handle all the setup, and staff the event to keep the fun going throughout your event.
How long is an event?
We generally recommend a half-day event, depending on your group size, but will gladly customize the duration based on your unique needs.
How many people can play?
We can entertain a wide variety of group sizes. We will customize the event to meet your needs, but typically we recommend our Game Lounge be arranged to have up to 24 playing at a time. If you have more attendees, our staff can rotate players through the games to be sure everyone has a chance to play.
How much space do you need?
We need at least a 15'x10' area to setup and allow attendees to game comfortably. Depending on your options, more space may be required. Our event sales staff can help you plan your space needs effectively. Beyond space, our only requirement will be electricity to run the equipment.
What games do you bring?
We bring a variety of games, so there is sure to be something for everyone. We focus on multiplayer games that let your guests play together, be it 1vs1 Super Smash Bros battle or a 12 person race in Mario Kart!
Options & Layouts
Game Lounge is flexible and can be set up in a wide variety of formats. Here are just a few ideas for you in a top-down view. Your specific event layout will be determined by you and your Gameplex event planner during booking.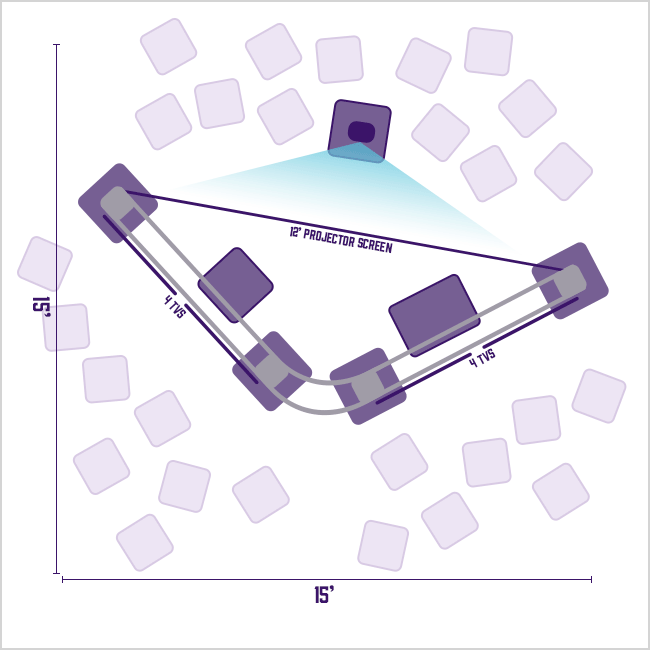 Dual Theater
Seating arranged to accomodate 8 - 32 players
As many as 8 HD super bright TVs on one side
1 HD projector on the other side
Audio system for game sound and music
Wireless gaming for multiplayer
Should be set up in an open area for best results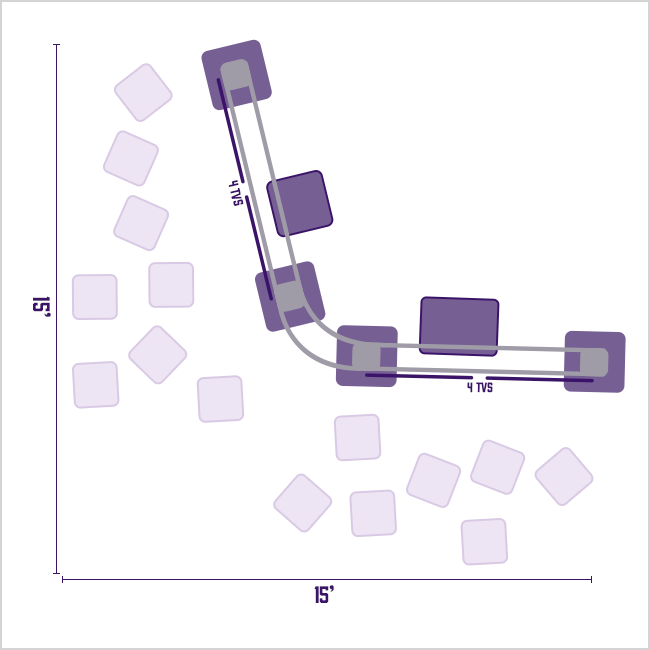 TV Theater
Seating arranged to accomodate 8 - 24 players
As many as 8 HD super bright TVs
Audio system for game sound and music
Wireless gaming for multiplayer
Can be set up in the center of a room or against a wall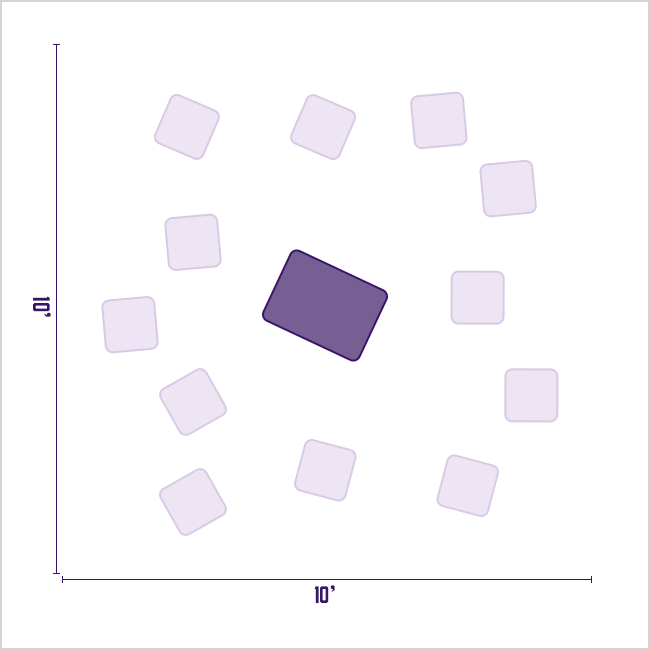 Handheld Play
Seating arranged to accomodate 8 - 24 players
Consoles and controllers for everybody
Wireless gaming for multiplayer
Fits practically any space!
"We had an amazing experience with Gameplex. [The staff] was quick, friendly, and it was an easy process. No issues. No delays. We will be booking again for future events. Thank you so much for great service!!!" - Abdul F.
Become a Gameplex Partner
Gameplex works with a number of event & meeting planners to bring gaming fun to events across the country.
Request More Information