A New Kind of Esports Tournament
The Esport Open is a casual esports event that brings enthusiasts together by encouraging them to participate and be recognized. Esports Open is an inclusive experience, designed to be an accessible event where everyone from casual to core gamers can have fun and make some friends. The format works great as a stand-alone event or as an anchor attraction in a larger event for engaging, interactive entertainment for large groups.
We run a new kind of video game tournament that maximizes player participation and throughput. While most tournaments employ a "win or go home" approach taking significant time for a few participants to complete, this tournament creates a Stay and Play environment that maximizes player participation. A professional shoutcaster makes the experience as entertaining to watch as it is to participate.
Is it different than a typical tournament?
Players are never eliminated. This gives everyone a chance to be a celebrity, playing on the big screen. Matches are fun to watch and coaches make the event fun by supporting players of all skill levels. For players not interested in competition, a free play area is included which can include the same game as the main stage, or a variety of games to draw in gamers of all interests.
How does it foster connection?
While most tournaments are narrowly focused on finding the best player, the Esports Open generates "winners". Our tournament format maximizes participation and camaraderie. Since players are never eliminated, there is no immediate disqualification for failure. Every round there is a new winner, growing the pool of competitors, and the audience investment. Practice areas supported by coaches create a comfortable space to learn, experiment, and prepare for "the big stage". When players "earn" their pin, they can immediately identify other players and begin to share experiences, stories, and strategies. The "sorting" process creates increasingly competitive, interesting matches with growing audience participation. Repeated competitions build familiarity between the players and the audience. More social action is generated the longer the event operates.
Request a Quote
Contact us for availability, scheduling, and other questions. Our events team will help you plan your event.
Request a Quote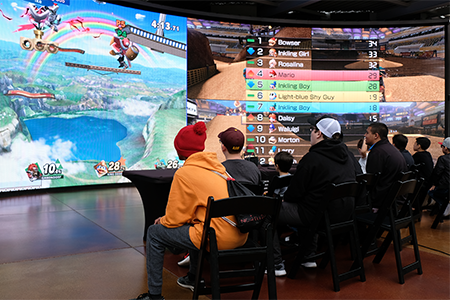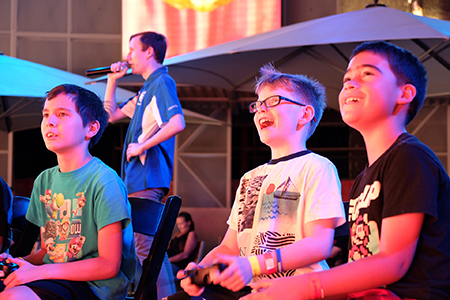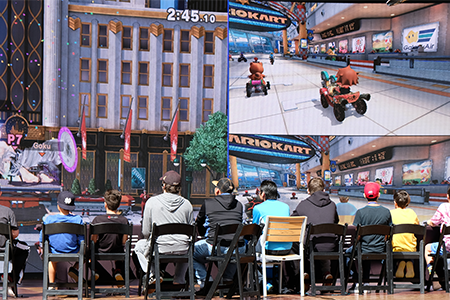 Watch a clip
Common Questions
How does this work?
This is an onsite event that is delivered and setup at your venue prior to opening day. The attraction is built around a center stage,massive high resolution screen, and playing zones, and seating for the audience. Participants warm up in the On Deck Area receiving advice and tips from professional game coaches. They then move to the Main Stage where they compete in quick, Pin matches. Periodically, all pin winners compete in a Medal Round. At the end of the event, all medalists compete for the event Championship. Up to 40 people at a time can play, and throughput averages 64 players per hour.
How long is an event?
This is an all-day event that turns the typical tournament style upside-down. We encourage participants to stick around all day to continue playing, maximizing crowd-draw and time at your event.
How many people can play?
We can support a wide variety of group sizes from 200 to 5,000. The limits will be decided on your event goals, the size of the venue, and the number of days we are there.
How much space do you need?
We need at least a 40'x70' area to setup and allow attendees to sit comfortably. Depending on your specific event needs, more space may be required. Our event sales staff can help you plan your space needs effectively.
Esports Open Event Floorplan
"The Esports Open was by far the most impressive success of the conference. We were impressed by the crowd it drew throughout the entire weekend." - Samantha D.