Interactive Leadership Training
Culture Kitchen is a unique program that brings culture change to life in a new, interactive way. First, the experience creates real interdependence among your team members, and secondly, it teaches strategies to rapidly manage uncertainty and increasing complexity.
The program is based upon the research done by Google's People Analytics team and their groundbreaking Project Aristotle. That team uncovered the 5 secrets to building high performance teams with high employee morale. Culture Kitchen brings these lessons to life using video games and engaging facilitation.
Our Program
The Culture Kitchen is based upon a video game that stresses interdependent teamwork. Players take the role of one of four chefs, working together to run a restaurant. While every chef can do any task, no chef can do every task. Players must work together to achieve high performance.
The controls are simple and accessible . The real challenge comes from team dynamics and a carefully programmed progression that upsets the status quo and forces the team to rapidly adapt. The invisible forces that ultimately shape team behavior become visible and players learn the skills to master change by creating a healthy collaborative culture.
Our Facilitators
The program is facilitated by an expert in the space of business consulting, leadership training, and culture building. Our experts will guide your team through a mixture of in-game and on-screen learning in the interactive workshop. And our professional video game coaches take away the learning curve so your staff can focus on having fun while they learn.
Request a Quote
Contact us for availability, scheduling, and other questions. Our events team will help you plan your event.
Request a Quote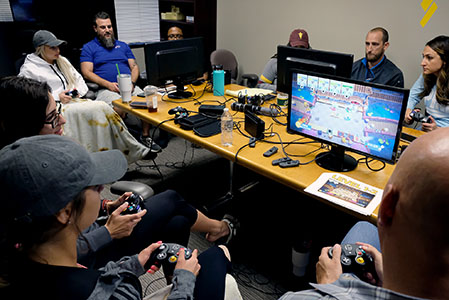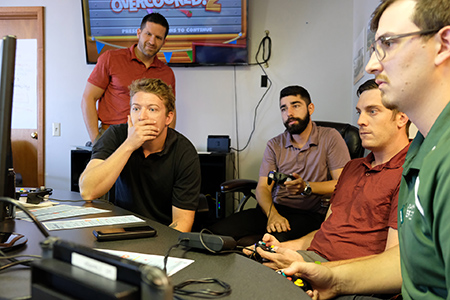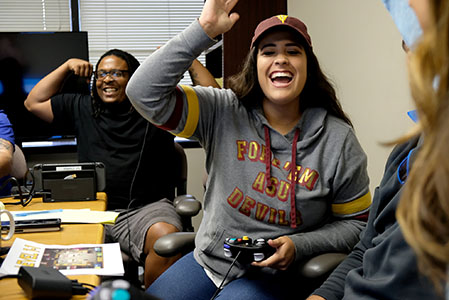 Common Questions
Who is this for?
Companies, departments, and organizations that work as interdependent teams coping with change.
How many people can attend?
The program scales from 8 to 32.
How long does the program last?
The program lasts 4 hours.
What are the setup requirements?
Pre-Event setup: 45 minutes. Post-Event tear down: 30 minutes.
How much space do you need?
This depends on your format, but in general, enough seating for each individual plus 3-4 facilitators.
Are there any physical limitations?
In general no, but adaptive controllers can be made available.
"Not many of you can say you have company trainings using #videosgames! Yes you read that right, VIDEO GAMES! Our People Experience team had a fun day at the office thanks to The Culture Kitchen, a playful and interactive workshop that maximizes team effectiveness." - T-ROC via Instagram
"Culture Kitchen is a great way to get the various silohs to work well together. The game is designed to bring people together to create an outcome. Brilliant!" - Rick McPartlin, President of The Revenue Game, LLC